Page, Hugh R. Jr., General Editor. Randall C. Bailey, Valerie Bridgeman, Stacy Davis, Cheryl Kirk-Duggan, Madipoane Masenya (ngwan'a Mphahlele), N. Samuel Murrell, and Rodney S. Sadler Jr., Associate Editors. The Africana Bible: Reading Israel's Scriptures from Africa and the African Diaspora. Minneapolis: Fortress Press, 2010. 358 Pages. Cloth. $39.00 http://store.augsburgfortress.org/store/product/1786/The-Africana-Bible

Hughes, R. Kent. Douglas Sean O'Donnell, Contibuting Editor. The Pastor's Book: A Comprehensive and Practical Guide to Pastoral Ministry. Wheaton: Crossway, 2015. 592 Pages. Cloth. $45.00. https://www.crossway.org/books/the-pastors-book-case/
Quick Summaries are pithy paragraph-long reviews
of releases that cross our desk.
These are reviews for when you don't have all day
to decide whether a resource is worth
your time, money, storage space, or trouble.

This set of quick summary reviews contains two that we requested and one that arrived unsolicited.

For this set of reviews, we've expanded our coverage of the content of each book/CD.


A landmark volume, The Africana Bible gathers multicultural and interdisciplinary perspectives on every book in the Hebrew Bible. It opens a critical window onto the world of interpretation on the African continent and in the multiple diasporas of African peoples, including the African-American experience, with attention to Africana histories, literatures, cultures, and backgrounds for understanding biblical literature.

The Africana Bible features a critical commentary on every book of the Hebrew Bible, the Apocrypha, and Pseudepigrapha that are authoritative for many in African and African-diasporan communities worldwide. It highlights issues of concern to the global Black community (such as globalization and the colonial legacy) and the distinctive norms of interpretation in African and African Diasporan settings. (Publisher's Website)

- The Africana Bible is our first Fortress title in some time. We will consider other titles in the future, but this one gave us pause. The General Editor is a "decidely liberal Anglican priest." The numerous contributors/associate editors have similar claimed pedigrees. A title that could be/is likely used in several "studies" departments at major universities and progressive seminaries, "The Africana Bible is an Afro-Diasporic midrash on the Bible" (11). If this terminology is unfamiliar to you, you are likely not the intended audience for the book.

There are signs of potential historic orthodoxy with "hints" of reservation and new directions:
"[The] Christian believes that the Bible is the written Word of God. It is inspired by God, meaning that the thoughts of God were breathed into the holy men of God who spoke or wrote God's word. The Bible is the marvelous drama of God revealing himself to his people, and of the inspired prophets of God expressing that revelation in human thought forms" (Getui 1997:81).
Among Africans, Christians and non-Christians, the Bible is a liberative document... (25)
Consider also:
The reception of the scriptures of Israel into the Christian canon was an is marked by usupation, colonization, anti-Judaism, and anti-Semitism (47).
This tome may be valuable to our journal's readers as counter-example and evidence of modern thought on the Bible. Confessional Lutherans will find some neat tidbits, but not enough to merit the cost of the book.

Figure 1 (after page 214) shows Africa and the African Diaspora (the slave trade). No mention is made of Africans selling other Africans to Europeans.

Figure 15 assumes YHWH is positively associated with Asherah.

We wanted to see this title primarily for its treatment of the deuterocanonical and pseudepigraphic writings, especially those used in the Ethiopian context. (For more information on Lutheranism and reform in that nation, visit http://www.lcms.org/ethiopia) Only 44 pages were devoted to these texts. Wikipedia may be more helpful to other readers. Most surprising to me was for Fortress, a Lutheran publishing house, to allow the Introduction to this section (293-295) to mention Wittenberg and the apocrypha, but so obviously (intentionally?) leave out one Martin Luther, whose comments should have been welcome and informative here. He recommended the Apocrypha as books that are profitable and good to read, yet texts that are not regarded as equal to the Holy Scripture.

If you are looking for an introduction to the Old Testament that references its use in Africa or African Diaspora communities that is Christocentric, keep looking. Instead, pay Tom Oden a visit over at http://www.earlyafricanchristianity.com/ and consider the work (https://www.cph.org/p-22685-i-am-not-afraid-demon-possession-and-spiritual-warfare.aspx) of Robert Bennett on Madagascar.



Table of Contents
Part 1: Christian Gatherings

Sunday Worship

Annual Services

Weddings

Funerals

Enrichment: Poetry to Enhance Preaching and Worship

Part 2: Parts of the Worship Service

Public Prayers

The Historic Christian Creeds

Hymns and Songs

Baptism

Communion

Part 3: Ministerial Duties

Pastoral Counseling

Hospital Visitation

Appendix: Sample Wedding Services from Various Churches (Publisher's website)

/ Books designed to be "seminary in a box" are generally disappointing (http://lhpqbr.blogspot.com/2010/03/pulpit-review-distance-education.html). That said, such volumes are not generally intended for an audience of Lutherans. The Pastor's Book is no exception to either rule. Yet, I was pleasantly surprised by aspects of this volume by Hughes and O'Donnell.

There is an intention to focus upon worship and pastoral care and "encourage a thoroughly gospel-centered ministry; refresh the church from the wells of historic orthodoxy; provide many of the best practical examples; and become a go-to resource for busy pastors" (19).

I would offer some pointed critique. There is an overwhelming Calvinist taste to the book. The reference to the rise of the pulpit in prominence is true of the Reformation (41), yet not at the expense of the altar in the Lutheran reformation. The entire chapter on Baptism (373ff) is utterly inadequate for Lutheran use. The "disparate" approach is unhelpful given what Scripture says about baptism, and will be confusing to readers who will likely resonate with their own preconceived perspective.

My most significant concern with the book is in the Communion chapter (417ff), also inadequate for Lutheran use, unnecessarily inaccurate, and slanderous. Please turn to page 422. "The Reformers rejected the doctrine of transubstantiation out of hand. Luther replaced it with consubstantiation..." The former is true. The latter is not.

No Lutheran uses the term "consubstantiation." We reject it "out of hand." The term is an attempt by non-Lutherans to describe our understanding of the Sacrament of the Altar as a mere philosophical theory like the rejected philosophical theory of transubstantiation. Authors, editors, and fellow readers, do not insult, offend, denigrate, or misunderstand Lutherans by continuing your use of this term. As a reviewer, I'll bring it up every time I see it. Disagree with us if you must, but do not presume to tell us (and others) what we believe, teach, and confess in a way that we will everywhere and always reject and refute. That's not respectful or fair.

Turn to Matthew 26:26. Read the whole of Jesus' Words of Institution. What does He take? What does He say it is? What else does He take in the context of the Jewish Seder? (Remember: pasteurized grape juice did not exist yet.) What does He say it is? And for what purpose are we to eat and drink according to His command and invitation? Don't condemn me for taking Jesus at His Word!

As I dismount my soapbox, I must note that I was heartened to see Lutheranism represented in liturgical examples from the 1982 hymnal of The Lutheran Church--Missouri Synod, Lutheran Worship. I would have been more impressed in a 2015 book to see references to our 2006 hymnal Lutheran Service Book. The author/editor was fair in explaining our objection to eulogies at funerals (192-193). I would add that eulogies originated in traditions where works mattered for the deceased's own salvation, contradicting "Christ Alone."

Personally, I also welcomed frequent references to the hymnody of Getty and Townend and the conscious attempt to reintroduce the Church year, historic liturgical forms, and the wealth of Christian hymnody and song to the volumes readers.

We wanted to see what was going on in pastoral care among today's conservative evangelicals. And so we did. There is improvement, room for hope for outside observers like us Lutherans, and perhaps even those who would be willing to listen to and learn from us.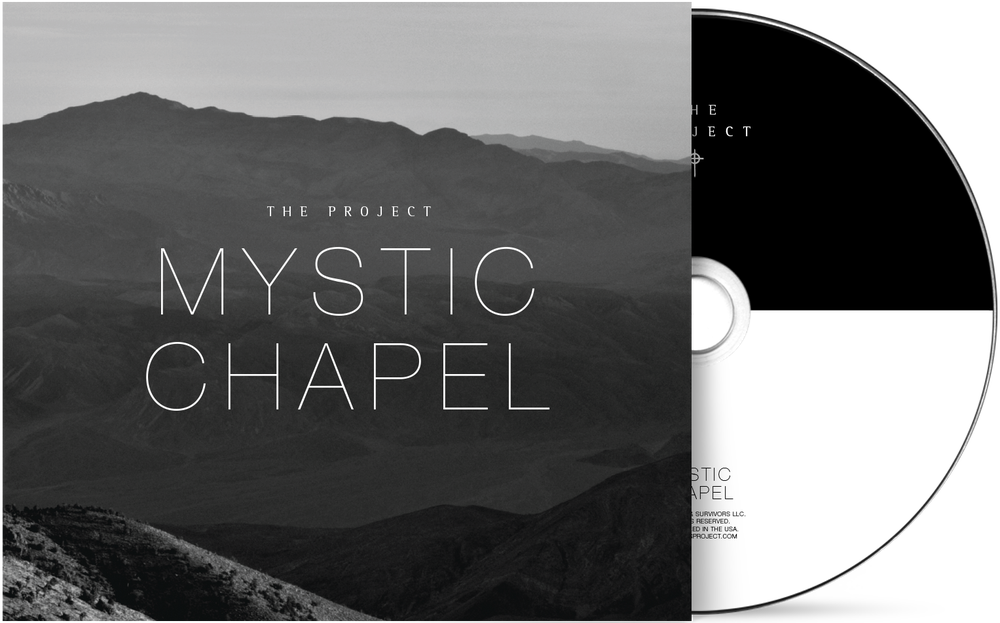 What if we still believed? (Publisher's website)
/+ We reviewed the previous album by The Project some time ago (http://lhpqbr.blogspot.com/2014/07/quick-summaries-calvin-apostates.html).

I was taught once by a seminary professor that "Mysticism begins the mist, centers on 'I', and ends in schism." Pithy, that. Mystic Chapel is likely named thus because of the "Prelude" and "Postlude" tracks bookending the album, which provide an instrumental "mystical" auditory experience. That, and Retro Guitar Chapel Praise Music just isn't a great title.

Now, down to specifics. Track 2 is a "call to worship" with a recognizable Kyrie and trinitarian ending with intentionally chosen language: "Now and forever/Unto ages of ages. Amen. Amen." Track 3 is what my readers will recognize as the text of the Phos Hilaron from Evening Prayer. Track 4 is a version of the Easter Proclamation that can be added to the end of Lutheran Service Book Morning Prayer. Track 5 is a resurrection-themed praise song: "Death Is Destroyed." Track 6 is Marian, a retelling of the Annunciation by Gabriel. I was uncomfortable with "Have joy, unwedded bride" and the overall directing of language toward Mary. Track 7 returns to the praise genre, singing of mercy in Christ: "From on high merciful Savior/From on high thou didst descend." Track 8 is a paraphrase of the Lord's Prayer.

The musicians are highly-skilled. This appears to be their attempt to reconcile their personal musical style with Biblical truth and liturgical texts. Their words challenge us to hold onto the faith once delivered to the saints, especially the virgin birth and resurrection of Jesus. Style may be jarring for our typical readers, not what they're accustomed to on Sunday mornings or Wednesday evenings. I can report that it was enjoyable road trip music at 4 a.m. on a drive across Wyoming.


Rev. Paul J Cain is Pastor of Immanuel, Sheridan, Wyoming, Headmaster of Martin Luther Grammar School and Immanuel Academy, a member of the Board of Directors of The Consortium for Classical and Lutheran Education, District Education Chairman and Editor of Lutheran Book Review. A graduate of Concordia Seminary, St. Louis, Rev. Cain is a contributor to Lutheran Service Book, Lutheranism 101, the forthcoming LSB Hymnal Companion, and is the author of
5 Things You Can Do to Make Our Congregation a Caring Church.
He has previously served Emmanuel, Green River, WY and Trinity, Morrill, NE. He is married to Ann and loves reading and listening to, composing, and making music.