Curious…
Feed: Fundamentally Reformed
Posted on: Wednesday, February 08, 2012 5:31 AM
Author: Bob Hayton
Subject: Earliest NT Manuscript Discovered???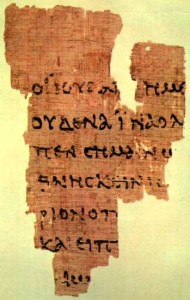 Over on my team blog, KJVOnlyDebate.com, my friend Damien Garofalo shared the news of the possible discovery of a 1st Century NT manuscript of the Gospel of Mark. There isn't much information on this as of yet, but here's what I know so far.
Dr. Daniel Wallace spilled the beans in a recent debate with Bart Ehrman that there has now been discovered a papyrus fragment of Mark that has been dated to the 1st Century. This would make the manuscript earlier than P52, a manuscript fragment of the Gospel of John dated to A.D. 125. The publication of the new manuscript fragment, and any additional details about its discovery, will not be available until next year, unfortunately. There are indications, however, that the fragment appears to be part of the Green collection, which claims to include "one of the world's largest holdings of unpublished biblical and classical papyri." More details on that collection, here.
At Sheffield Biblical Studies blog, I found the following tidbit with more details about the new discoveries.
From what I've been able to glean there are now in the Green Collection 7 unpublished NT papyri:

2nd century frg. with Hebrews 1

2nd century frg. with I Corinthians 8-10

2nd century frg. with Matthew

2nd century frg. with Romans 8-9

2nd century frg. with part of a Pauline Epistle, from what I know it is from Hebrews

2nd century frg. with Luke

1st century frg. with Mark
As for where these manuscripts have been found, there is no official word, but the following tidbit about the director of the Green collection may have the answer:
Carroll also developed a method to extract writings reused in the infrastructure of mummy coverings while preserving the decorative external features. This groundbreaking research has uncovered some of the earliest-known ancient Greek writings.
I was able to learn that the technical term for this is cartonnage (papyrii and other linens and fabric that was molded into funeral masks for Egyptian mummies). So the assumption is that most of these fragments may have been found through Carroll's innovative method of extracting papyrii from cartonnage. And as Matthew Hamilton mentioned over in the comments at Evangelical Textual Criticism blog, this could have important ramifications for the ability to date the papyrii with precision.
…if other NT papyri in the Green Collection were recovered from cartonnage, then perhaps also the fragment of Mark. Unlike papyri like P52, a papyrus fragment found in cartonnage has at least 2 elements of context:

Firstly the other papyri in the cartonnage may indicate a date range – if they all appear to be 2nd century then a 1st century date for a NT frg. would be odd, and conversely, if they all appear to be 1st century then a 2nd century date for a NT frg. would be odd. But if they come from a wide range then the context is much weaker

Secondly, if the cartonnage is dated by style or other features to the late 1st century then any of the papyri that make up the cartonnage MUST predate the late 1st century.

Unfortunately Daniel Wallace's information does not make it clear if the fragment of Mark was from cartonnage like the fragment of Romans, or if it was a loose fragment.
We will have to wait for more information on this, but even if these fragments are quite small, they still (if the early dates hold) stand as added testimony to the authenticity of the New Testament.
I should note in passing, that with the size of the fragment, it is almost surely not going to contain profound new insight of lasting text-critical value. The dream-scenario that Paul Maier writes about in The Constantine Codex of a textual discovery that forever settles the question of Mark's ending, remains fiction, for now.